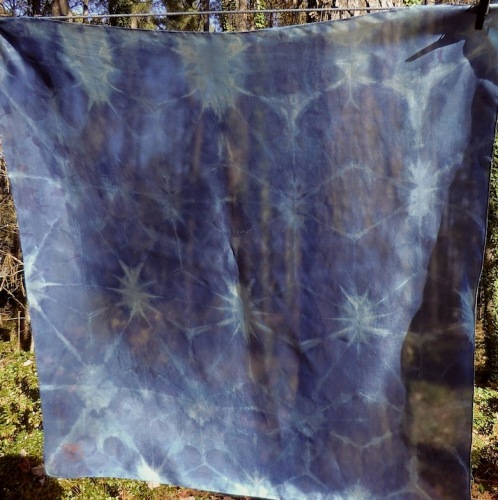 Dyeing with indigo is an activity I've been involved in for at least 10 years or more now. In the beginning I worked mostly with plant fibers, but over time silk has also piqued my interest.
Perhaps an early introduction to that fiber came at an early age when I discovered my mother's small scarf collection in a top dresser drawer. I could have been exploring, as I often did, or perhaps I earnestly needed something to cover my head.
I was, it seems, always making my escape on my bike. When the seasons changed and the weather turned cold, my ears needed protection. I didn't have a hat and at that point in time, it seems that scarves were the norm.
Mom's scarves were a light China silk and printed in different floral patterns. She wore her square shaped scarves folded in triangles and knotted at her neck. They added a splash of color to her otherwise plain sweater sets. The only colors I can recall are browns, yellows, oranges and red – no blue.
Her scarves, though, reflected her western style, American wardrobe of the '50s and '60s. Mine may reflect that soft warming silk, but they will probably mostly reflect that indigo blue. That's a different story.
This scarves similar to this one can be found in my "Oriba Shibori" shop on Etsy.